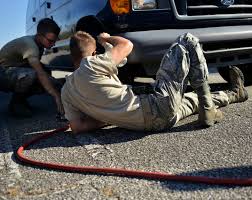 Having no one nearby to help you when your truck breaks down on the road is never a good thing. Also, it can be risky at times. Providentially, you can now rely on the growing numbers of on-site truck repairs and services that can easily come to you during your emergency. But while waiting for the mechanic to come, what should you do before they arrive? Here are some things you need to prepare:
Get Off the Road
You never want to be the cause of the traffic or an accident so if it is possible, get the truck off the road. Do not worry because it is very seldom for vehicles to be dead. Most of the time, there is still enough power to place the vehicle off the road.
Be Attentive
If you are not familiar with the area, make sure to write down the last mark you have seen or major exits you saw. If your vehicle encountered unusual symptoms and strange sounds, make a note of them too so that you can report them to the mechanic. Your reports may help the mechanic to diagnose and repair the vehicle quickly.
Get Roadside Assistance
Call a mobile truck repair as soon as you can. If you cannot reach one, contact your auto club or a reliable person that can help you fetch a mobile truck repair service right away. Do not attempt to repair or diagnose the problem yourself unless you are also a trained mechanic.